Can the company disrupt another facet of the country's communications sector?
Until last year, India's mobile service sector could easily be described as hidebound, dominated by a handful of companies that resisted innovation. That all changed in September 2016, when upstart Reliance Jio—a subsidiary of conglomerate Reliance Industries—launched a new service that gave customers access to 4G network speeds and data plan costs that significantly undercut its rivals.
The formula was immediately successful, drawing millions of new subscribers in the months that followed, and forcing other telecoms to drop their prices to remain competitive. According to the Telecom Regulatory Authority of India (TRAI), Reliance Jio vaulted into first place among broadband operators in India, controlling 30.6% of fixed and wireless subscriptions in the country by December 2016.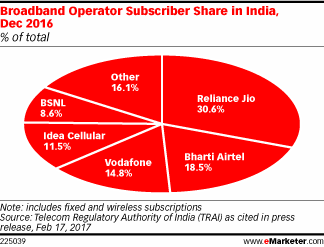 This week came news that Reliance Jio may now be setting its sights on disrupting India's fixed-line broadband sector. The company appears to have unintentionally made a webpage detailing plans for its new fixed-line broadband service accessible to the public.
According to reports, the new plan, called JioFiber on the webpage, will give its customers data speeds of 100 megabits per second (Mbps) with a monthly data cap of 100 gigabytes (GB). Once that cap is exceeded, customers would see their data speeds drop to 1 Mbps. And the best news for prospective customers? The first three months of service will be free, although users will still have to pay an installation fee of INR4,500 (roughly $67).
The webpage indicated that the new fixed-line service would first be available in nine cities, including Delhi, Mumbai and Kolkata.
Reliance Jio's move into fixed-line broadband is a somewhat confusing expansion, considering that TRAI reported there were just 18.25 million fixed-line broadband subscribers in India at the end of April. By comparison, there were 265.43 million mobile broadband connections in the country in the same month. Month-to-month growth in fixed-line broadband connections has also plateaued, reaching just 0.39% in April.
eMarketer projects there will be a 429.2 million internet users in India this year. But most of them are expected to go online via a mobile device—eMarketer estimates the country will also be home to 267.1 million smartphone users in 2017.
At the same time Reliance Jio appears to be planning its fixed-line expansion, it is also keeping up pressure on its mobile service rivals. According to reports, the company plans to soon release feature phones that can use its 4G network for voice over LTE calls, a bid to migrate mobile dawdlers from slower 2G and 3G networks.
Feature phones still smartphones accounted for just 50% of mobile phone sales in India in Q4 2016, far lower than in the comparable developing markets of Indonesia (68%) and Brazil (92%).
Reliance Jio's fixed-line expansion comes as promotions designed to draw new customers with very low service plan costs are coming to an end. The company recently increased its service plan fees by roughly 75%, but that price hike will still result in plans as much as 20% cheaper than those offered by competitors, according to the Nikkei Asian Review.
As these promotions begin to peter out, it will be interesting to see if Reliance Jio's subscriber base remains loyal, especially since it's common for mobile phone users in the country to use multiple SIM cards from competing service providers to take advantage of the best rates available to them.